This Black History Month we're paying homage to the contributions made to regenerative agriculture by sharing the legacies of some of agriculture's most influential leaders from the Black community.
Regenerative agriculture is all the rage at the moment and for good reason. A regenerative revolution could be a solution to the climate crisis right under our feet, but it's important to acknowledge that these techniques aren't new. In fact, most of them are older than the United States itself. Regenerative agricultural methods such as polycultures, cover crops, and rotational grazing have their roots in Indigenous farming methods and the skills and expertise brought to the U.S. by the African diaspora.
We're going to highlight a few key players (past and present) in the regenerative agriculture movement and offer some additional resources for learning about the intersections of race and agriculture through literature, documentary, and podcast.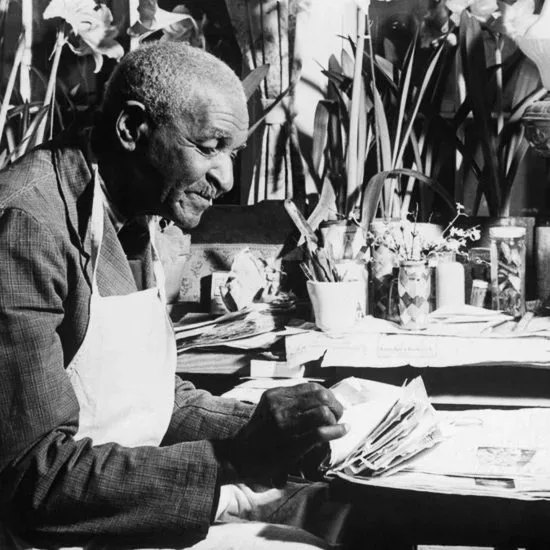 George Washington Carver
George Washington Carver was born into slavery in Alabama but pursued higher education when he was emancipated after the Civil War. He went on to become an influential professor at Tuskegee University and one of the founders of the regenerative and organic agriculture movement.
Dr. Carver discovered early on that years of mono-cropping cotton was stripping the soil of essential nutrients. Through his research he found that planting nitrogen-fixing plants—plants that pull nitrogen from the atmosphere and deposit it into the soil—could restore soil health. We know this practice today as crop rotation, and it is a core component of sustainable farming practices.
Dr. Carver achieved much in his lifetime, but perhaps his greatest work was spreading the long-forgotten message that the health of the land and the health of the people are interconnected. He talked often of the "mutual dependency of the animal, vegetable, and mineral kingdoms." That's something we think about often in the era of the climate crisis, and it proves Dr. Carver was a man far ahead of his time.
Booker T. Whatley
Booker T. Whatley was an Alabamian horticulturist and professor at Tuskegee University. He is considered one of the pioneers of sustainable agriculture and largely followed in the footsteps of his predecessor, George Washington Carver.
You've likely heard of the CSA or "community supported agriculture" model, but do you know where it comes from? Booker T. Whatley created the CSA model, what he called a "clientele membership club," for Black farmers in the 1960s and 70s.
During this period, at the height of the Civil Rights Movement, Black farmers were being systematically denied loans by the federal government. Many Black landowners were being foreclosed on, which in turn prevented future generations of Black farmers from owning land.
Whatley developed the CSA model to help small, Black-owned farms stay in business and to support the Black community by providing regular, affordable access to healthy foods. He was the first to set standards for "smaller and smarter" farming and implored farmers to minimize cost and maximize land by utilizing smart crop rotation practices. He made a point that farms needed to be located on paved roads near cities in order to ensure a reliable customer base.
CSA remains popular today, and the assured income it provides small farms each season is integral to their overall success.
Booker T. Whatley
Leah Penniman is a farmer, activist, and author with over 15 years of experience working at the intersection of environmentalism and food justice. She co-founded Soul Fire Farm—a 72-acre Afro-Indigenous run farm that practices regenerative agriculture and shares skills for healing the land, natural building, health, activism and environmental justice—with her husband in 2011. It has since become a model for success notorious around the globe.
Her mission in starting Soul Fire Farm is to end racism within the food system and reclaim ancestral connections to the land. The farm is at once a school, an advocacy center, a social justice nonprofit, and a place for food production. Folks can explore a variety of programs offered at the farm, from week-long intensive courses to fellowship programs that give farmers of color the leg-up that they have been historically denied.
Penniman published the book Farming While Black: Soul Fire Farm's Practical Guide to Liberation on the Land in 2018. In the book, Penniman traces connections between Black farmers and nearly all present-day sustainable agricultural methods. It is considered the first comprehensive guide for aspiring African-heritage farmers to reclaim their ancestral knowledge as agriculturists.
Regenerative Agricultre
Want to learn more about regenerative agriculture and the intersections of racial and food justice? Check out these resources:
Listen: "Soil: The Dirty Climate Solution," How to Save a Planet Podcast
Read: Farming While Black, Leah Penniman; Braiding Sweetgrass, Robin Hill Klimmerer 
Watch: Gather, Sanjay Rawal; Kiss the Ground