There are countless women who have been instrumental to the cooperative movement, many of who carried out invisible labor. There is no way we could ever recognize all of them, especially the countless farmers and farm owners around the world who provide their yield and labor to local farmer co-ops. During Women's History Month, we hope to shine a spotlight on some that history has managed to capture, and celebrate their contribution and achievement inside and outside of the co-op world.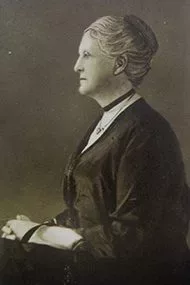 Alice Acland
1849 – 1935
Alice recognized the value of the co-op model early on. She witnessed firsthand the power of consumer cooperation while traveling with her husband, who advocated for educational opportunities for working class men. She saw the co-op model as one that gave equal power and ownership to women, and wrote about it frequently, eventually becoming a column editor for Cooperative News, the world's oldest cooperative newspaper.
In 1883, her work as editor led to the establishment of what is now the Co-operative Women's Guild, a social co-op which supported and advocated for women in the UK. The guild's legacy can be traced along several advances in gender equality through the early 20th century.
Margaret Llewelyn Davies
1861 – 1944
Margaret served as general secretary of the Women's Co-operative Guild from 1889 to 1921, and her tenure is marked with explosive growth and political advocacy. Along with her domestic partner Lilian Harris, Margaret led the guild to successfully lobby for nationalized maternity benefits in the UK Insurance Act of 1911.
Aside from this landmark win, she advocated for women's suffrage, divorce equality, and pacifism as they approached the first World War. Her leadership style was based around empowering working class women to speak or write of their own experiences, which helped provide a stronger voice for the guild. Margaret and Lilian retired and lived together for the remainder of their lives.
Mary Ellicott Arnold & Mabel Reed (not pictured)
1876 – 1968 and 1876 – 1962, respectively
Partners Mary and Mabel began their activism working as organizers for affordable housing in NYC. In 1908, they were hired by the US Bureau of Indian Affairs to exert a "civilizing influence" on the residents of the Karuk nation in California. Taking advantage of the vagueness of this order, they instead spent their time learning Karuk practices, specifically around community education and cooperative living. Upon returning to the East Coast, they helped start Consumers Cooperative Services, a co-op in New York which opened a series of bakeries, restaurants, and grocery stores.
As their co-op grew, they were able to fund development of a housing cooperative in New York City. Following that success, they established housing and worker co-ops in mining communities in Nova Scotia, living and learning alongside the miners. They spent the remainder of their lives working with consumer cooperatives along the East coast, and now rest in a shared burial plot outside of Philadelphia.
Dorothy Kenyon
1888 – 1972
Dorothy is best known for her work as a civil rights attorney and judge, acting as a firm voice for gender equality, labor rights, and reproductive rights. She was also a champion of cooperative systems, and played a major role as co-founder of the Consumers Cooperative Services with Mary Ellicott Arnold and Mabel Reed. She was also a legal advocate for cooperative systems, helping lay the ground work for establishing co-ops in the US.
Her support of labor organizers and consumer cooperation made her a target of Senator McCarthy, and she topped the list of government employees to be investigated during the red scare. Despite this, she continued to work tirelessly for equality and empowerment. When Ruth Bader Ginsburg wrote her landmark brief, which resulted in the Equal Protection Clause expanding to cover gender discrimination, Dorothy was listed as a co-author in honor of her lifetime of work.
Merling Preza
1964 –
Merling is co-founder of Pachamama Coffee, and collective of coffee farm co-ops in Latin America and East Africa. Merling is also the general manager of PRODECOOP, which is Pachamama's member co-op in Nicaragua, representing over 2,000 family farm owners in the country, many owned solely by women. Her stated goal is to improve the lives of the farmers and promote ecological, social, and economic sustainability. Farm co-ops like Pachamama work to decentralize power and ownership of our food system and promote community growth and support.